These workshops are designed for those new to the craft of stained glass but can be adapted to provide challenge to intermediate makers too.
The group is usually restricted to four people (occasionally six for certain sessions) to ensure good teaching support and successful outcomes.
The workshops are usually held at the weekends- Saturday/Sunday(occasionally Thursday/Friday) at my studio in Harrogate. I politely request a 50% deposit when you book your place *
If you have a small group of friends that would enjoy a particular class on another date, I am happy to look at arranging this with you.
Just get in touch for a chat about your requirements.
*Cancellation policy : All cancellations must be received by e-mail please at info@carylhallettstainedglass.co.uk. A full reimbursement of the deposit will made if you cancel at least four weeks before the workshop. Half of the deposit payment is returned if you cancel at least two weeks before the date. Cancellations received later than two weeks before the workshop date cannot be reimbursed. Thank you.
Making a stained glass leaded panel
An introduction to leaded work (one day)
April 8th- FULL
April 22nd- FULL
June 17th-
July 13th, 2023
£150 |10am – 5pm
Learn More
This is a one day introductory workshop to traditional stained glass leaded work. It helps to have done a copper-foil workshop day, but it's not absolutely essential-really!. You will learn the basic skills needed to create your own small leaded panel (around 10 pieces of glass) that you can take home at the end of the day. The cost includes all tools and materials you will need.There is a selection of tried and tested patterns for you to choose from in the studio. It is a very busy day and you will be on your feet for most of it and it would be wise to bring along an apron. Refreshments are provided throughout the day.
"I have learned more from Caryl in her one day course than I did from the others put together. Caryl shared her tips and methods openly and addressed all of the worries I had. A thoroughly enjoyable day during which I was able to produce a panel I feel very proud of. I would heartily recommend to anybody, beginner or not, as Caryl tailors to your own needs." Louise
"Brilliant. Fantastic day. Caryl Hallett is extremely talented and a very good teacher. I would recommend this class to anyone." Mike
Creating a stained glass art hanging
April 9th (FULL)
April 23rd (FULL)
June 18th(FULL)
£130 | 10am – 4.00pm
Learn More
This is a one day workshop for beginners. You will learn to cut glass safely and competently, grind glass, copper-foil, solder and finish your project to take home. By the end of the day you will have created an original stained glass light catcher that will hang beautifully in your home. The cost includes lunch, tuition, materials and tools that you will need for the day. There will be patterns in the studio for you to choose from and as the group is small, you will get plenty of help and support throughout the day.
"Such a good 1 day course. Really informative and great fun. I learnt so much and was so pleased with the variety of decorations I was able to make. Caryl is a great teacher." Rosie
"This was the best course I've ever been on.
Caryl was a fantastic teacher and helped me out with kindness and care" Hayley.
"What a fantastic workshop! I learned so many new skills and, with Caryl's expert tuition and patient guidance, I created something really nice to take home" Neil
Painting and leading glass weekend workshop
Feb 25th & 26th-FULL
June 24th & 25th-FULL
July 15th & 16th- FULL
£260 | 10am – 4.00pm (both days)
Learn More
This is a two-day workshop that covers the traditional techniques needed to create a painted stained glass panel. You will be supported in learning the necessary skills in glass cutting and shaping, design, glass painting, firing, leading and soldering.
You will be able to develop your own design (within the parameters of time and skills), or choose some tried and tested designs from a selection at the studio.
This first day will involve glass cutting and shaping, developing a successful design and experimenting with traditional glass painting techniques. Your pieces will then be fired overnight.
The following day you will be able to assemble your embellished pieces into a panel by learning to lead, solder and cement your creation.
"Just finished a course with Caryl, completing 2 day stained glass panel. This was such a great experience – Caryl was very supportive, hugely knowledgeable, friendly, and helpful throughout. It was amazing to leave with my first completed stained glass panel." Catherine
"We came away with a beautiful piece of leaded stained glass (around a mirror in a frame in my case) which was entirely achievable in the time we had. We were able to do our own designs, choosing the colours and types of glass we used and there were plenty of her own creations to see if we needed inspiration. Great" Hannah
Seasonal themes workshops
£120
June 18th( FULL)
July 8th, 2023
Autumn leaves and Christmas Decorations to follow.
Learn More
These workshops are designed to reflect the season in which they take place. You will supported in creating a selection of stained glass decorations for your home or to give as gifts. Perfect for beginners or those with some experience. Choose from a selection of flowers, bees and butterflies during the Spring and Summer; Autumnal leaves in single form or as group in a mobile; As we get closer to Christmas you can create collections of fir trees, stars, angels etc.
You will be taught within a small group and will learn to cut and shape glass, copper-foil the pieces, solder and embellish your creations. All materials, tools etc. are provided, as well as refreshments throughout the day.
"Had a fantastic day making a stained glass flowers. Caryl was amazing at giving clear instructions and a lovely lunch- would definitely recommend this course for all abilities. Great fun". Kay
"I have just returned from Caryl's stained glass course for beginners and I am still buzzing ! She is the most patient skilled teacher and everyone came away from the day feeling they had achieved something great". Ann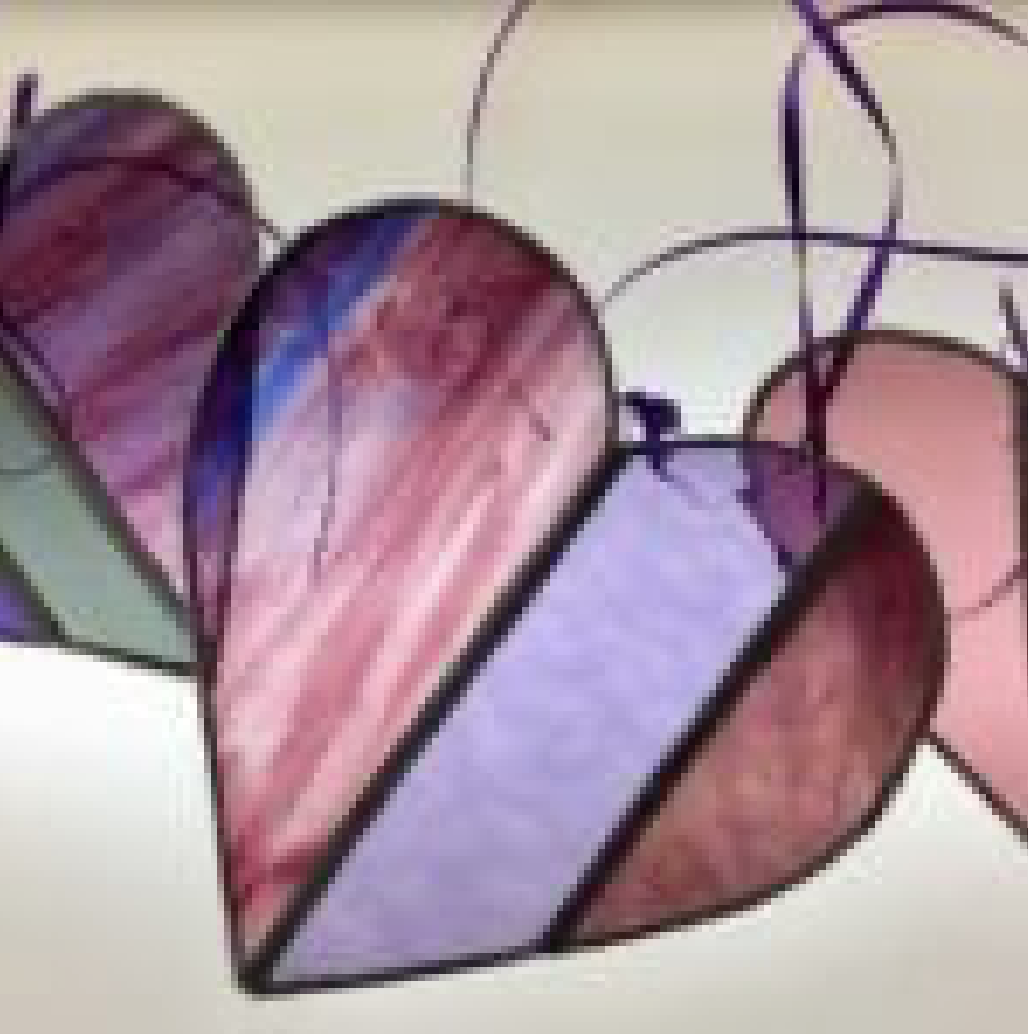 Hearts collection workshop
Dates offered on client's request 2023
Perfect activity for small group of friends (6 maximum)
to celebrate wedding/retirement/birthday etc.
Half-day 10-1pm/2pm-5pm- £75
Full day 10am-4pm- £120
Create a collection of bespoke gifts/decorations
Learn More
A creative stained glass day employing the flexible skill of copper-foiling to make a collection of pretty decorations or gifts- usually 5 on the full day (various sizes), 3 on half-day. A lovely activity to do together in a small group- perfect for sharing with a few friends to celebrate a wedding, retirement or birthday etc. Refreshments of Betty's coffee/Prosecco, or lunch on the full day. Perfect if you fancy a little creative experience!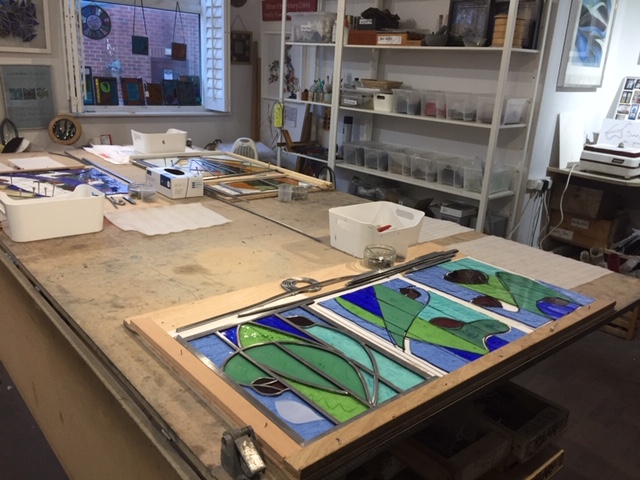 10 week evening course: Extended project
I offer an on-going evening class is for those students who having previously completed the one day Leaded Panel workshop or the weekend course, and feel ready to undertake a more extensive project.
It takes place on Tuesday evenings from 6-8.30pm. Costs will be £450 for the ten weeks.
This will include all tuition, equipment, various pattern-making materials, support boards, K-grade solder, paints, lead and cement. However as the range of glass selection is likely to be different and varied for most people, you will expected to meet the cost of the glass you choose. If you would like to bring along your own decorative glass, that's fine too.
The fusion of light, lead and beautiful glass...